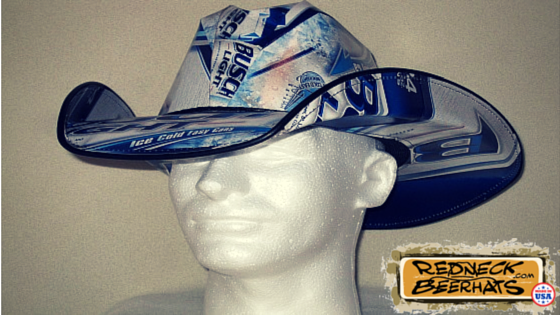 When it comes to headgear, there are plenty of choices, but I hope you'll forgive us if we say there's no question that beer case cowboy hats rule!
Now, you've got your fedoras, your baseball caps (and who doesn't have a few of those around), and even your beanies and berets (not big fans of those last two), but if you want something that stands out, how can anything really compete with an authentic redneck cowboy hat made out of authentic beer case boxes?
Beer Case Cowboy Hats Get Attention
After all, with an Original Redneck Beer Case Cowboy Hat, you're killing two birds with one stone. First, you're wearing a cowboy hat, and no one's gonna' argue that that isn't cool. Second, you're letting everyone know your favorite brand at a glance. And just maybe, depending upon the situation, you might even be offered a can of your favorite brew!
You know, you're certainly entitled keep any kind of hat on hand that you want. But can you really say your hat collection is complete if it doesn't include a 100% original Redneck Beer Case Cowboy Hat?
Every Redneck beer case cowboy hat begins its life as a real, can-holding case, which means we probably have a beer hat sporting your favorite brand. And, for those of you who prefer soft drinks as your beverage of choice and headwear, we've got you covered.
So, no matter what you prefer to drink, be sure to complete your hat collection with an original Redneck Cowboy Hat.