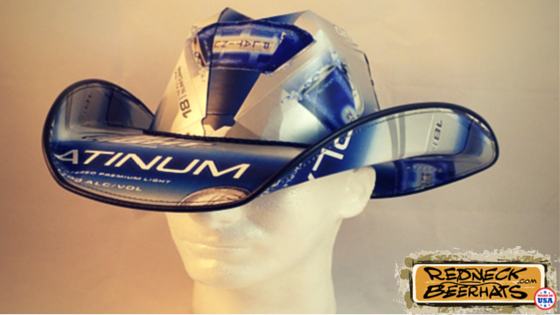 Last year I went with few friends of mine to a Toby Keith concert. My one buddy was newly single, and had no game when it came to the ladies. I gave him one of my beer case hats to wear, and women were coming up to talk to him and try on his beer case hat all night long. For a guy that never had much luck with the ladies, he sure did get a few numbers that night!
Anyone who has ever been to a bar, concert, block party or just a good ol' fashion get together knows that no accessory gets more attention than a beer case hat. A professionally made beer case hat not only livens the party in general, but also makes a great conversation piece.
Where to Get Beer Case Hat?
If you're wondering, "where do I get a beer case hat," well, you've come to the right place. Our beer case hats are made from real recycled materials that we custom construct to not only be durable, but also attractive enough to look like a cowboy hat dressing up like a case of beer for Halloween.
Why Wear a Beer Case Hat?
Nobody remembers the boring guy depressingly sipping his flask in a dark corner of a concert, or the dull wannabe cowboy telling bad jokes at the corner of the bar to women pretending to laugh. What people remember is the person who not only came to party, but also dressed to party in a custom made beer case hat. Whether you're a man or woman, a beer case hat shows the opposite sex you know how to party!
Being the center of attention is all about standing out. When you put on one of our custom beer case hats, everyone will know that you are where the party is at.